Managed IT Services
Keep your problems at bay with our monitoring and maintenance of your systems
Watch Video
We stop your computers from causing you stress
And make them bring you success
Are you a small business owner who feels let down by your IT? Have you spent a fortune on technology and software, but don't think you're getting your money's worth? Are your networks running slowly or your computers breaking down?. Do you spend so much time firefighting computer problems that you can't concentrate on your customers?
Let Zia Networks take over. We not only do IT consulting, computer repairs and troubleshooting, but can also oversee your systems and stop problems causing downtime. We keep your IT updated, secure and running smoothly, and prepare your technology for future growth. In short, we ensure you have more time for your precious customers. If you are looking for a managed IT services provider in Albuquerque, Santa Fe, Rio Rancho or across New Mexico, contact us today!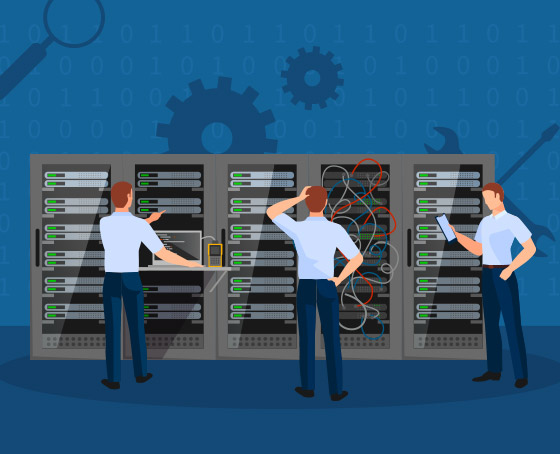 We keep your network running.
With the help of our Managed Services.
Whether you're a PC user or a Mac lover we can help with repairs of hardware and fix your software issues. We keep you updated and backed up, remove viruses, protect you from malware and make sure your computers are performing optimally at all times.
If your network is running slowly or you have access problems we can help. Your staff need a stable network to communicate with customers and do their jobs. We can give you a durable network that is up to speed and secure from malicious attack.
New Mexico's business community has many reasons to be thankful for Zia Networks
So glad we found Zia! We at New Mexico Legislative Reports just had the GREATEST experience. Server migration was seamless, our remote access substantially improved, internal directories reorganized, and the flotsam and jetsam in our central IT area replaced with real order! A clear network topology was provided. These are real professionals who are focused on customer needs and excellence. No messing around; no wasted time or unnecessary purchases. They just come in and quietly do the work necessary to enable us to do our work. Thank you, Zia!
Beverly Garcia
Owner – New Mexico Legislative Reports
Great Company that has exceeded my expectations on multiple occasions! Customer Service and Responsiveness second to none! In 15+ years owning my business, I have not found any IT company as knowledgeable and determined [in delivering exactly what we've requested] as Zia Networks. Highly recommend these guys!!
Dr. Devin Vest
Rio Grande Orthodontics
We hired Paul (Zia Networks) on two occasions. Once to fix some bugs on an old network and again recently to upgrade from an old server to a new one, along with a new firewall. Everything went very smoothly with barely any network interruption. Paul is a knowledgeable and friendly guy. I have zero reservations with recommending him for your network/server needs. If we ever need more external support for troubleshooting or setting up new hardware, he'll be the first person I call.
Tony Gomez
Senior Research Scientist – Southwest Sciences, Inc
Zia Networks is always on time, on or under Budget & available for any issue that may arise. We have their monthly Support Plan for our Organization and we can always rely on the Team to support us in any way we need.
Stan Hulse
Director of Finance – Santa Fe Habitat for Humanity
Paul and his team helped out our young business during a tumultuous period and got our computers and phones working in no time flat. Paul is very knowledgeable, thorough and timely in delivery of expert services. I would recommend Zia networks to any and all who want to take the headache out of managing their own IT services and let a team of trustworthy experts handle it.
David Dooling, PhD
Senior Data Analyst – Innovative Oncology Business Solutions
We are so impressed with the knowledge and quality of work Zia Networks has provided us with. They ordered, installed, and networked our pc's, laptops, server, firewall, printers and wireless access. They even hauled away all the packaging. Everything was just as quoted. We are very happy with them and are on our way to success with their help!
Lisa Yamnitz
Ageless Aesthetics Medispa
As a small business owner, I knew I needed to upgrade and update the laptop I rely on every day to run my business. Months after buying the new laptop, I found that I could not make the transition alone. Paul helped me make a smooth and quick transition. With his help, I will be able to run my business more efficiently. He is knowledgeable, professional, and kind. He is also a very clear communicator and teacher. I am grateful to know that I can call him for help with all of my IT needs.
Laurie Knight
Laurie Knight Law
I hired Zia Networks to install a new system and clean up my network for a start up business. The tech was very was timely and knowledgeable, answering my lay questions in understandable, plain English and offering clear advice on my options and solutions. I would highly recommend these guys.
Kenneth Pushkin
Pushkin Gallery
I recently had Zia networks work on my three computers. I had been having problems with the speed and efficiency of the laptops. The tech quickly found out what the problem was and gave me a diagnostic. The tech was able to clear out all of the many viruses and do some mechanical work on the laptops as well. The tech was very professional, informative and patient with all my questions. Having Zia networks work on my computer saved me time, money and uncertainty by not having to drop off my computer at a store, wondering if my computer would end up being a money pit. I am happy to say my laptop hasn't run better since I first took it out of the package. If I had to review in one word it would be Woooooooow!
Lorena Robertson
ABC Drivers Ed
Paul upgraded the wifi for my vacation rental house so that we could get coverage in our casita. The thick adobe walls were interfering with the access in parts of the house and in the casita. He gave me 3 clear options with pricing so that I could choose the most stable network upgrade that fit my budget. He's extremely capable. The installation was top quality and he walked me through the software setup so that I could change passwords and monitor quality. I consider myself fairly computer saavy. I've managed unix server computers in the past, created websites and setup online commerce for a nonprofit.
Leigh Plesniak
Owner, Casa De Colores, Santa Fe, NM Vice President, Las Patronas, San Diego, CA
I use Paul to take care of all my computer needs. He is very professional in his work, and has always solved our problems. I highly recommend him to anyone who has internet or computer needs.
Darrell Hilley
Santa Fe Art Collector Inc.
Great Service! Very knowledgeable. Also, very nice guy!
Linda Mares
Sunshine Services Tax Professiona
It was a pleasure to deal with Paul. We live semi rurally and have only 1.5 mbps Internet. Furthermore, our home is an antique adobe and signals don't penetrate the walls well. Internet in our home was spotty to nonexistent. Paul arrived promptly to assess the situation and suggested installing an access point on the roof. Our house now has Internet throughout, Internet outside, and even Internet in our casita! It's a miracle and we are so grateful. Paul is professional, prompt, and kind, and very competent.
Joan Borysenko, PhD
Mind-Body Health Sciences, LLC.
I was having trouble staying connected to the Internet for weeks. I came across Zia Networks and they fixed my connection. This is the best company in town. The employees were really polite and fixed the problem quickly. Definitely recommend using their services.
Rosa Cole
UNM College of Nursing
Having computer tribulations? Concerned about who to call that you can trust? Look no further than ZIA Networks. ZIA Networks provide a quick analysis of the problem, presented an estimate of costs, and gave a timeline to complete the work. Needless to say my computer was toast and in less than four hours I was up and running with a secure computer. Thank you ZIA Networks, your customer service is excellent and your costs are exceptionally reasonable.
Zeke Parra
Grant Writer – Northern New Mexico College
Zia Networks is fast, good, and professional. I would recommend them to anyone and everyone. What I really liked was, they are fast and good with computers. They are is fair with what I was charged. THANK YOU PAUL FOR A JOB WELL DONE.
John Quintana
The Floor Specialist
Fantastic service! The best I've ever had with my computers. Zia Networks was very professional and set up my new business computer and serviced my laptop. Would recommend him to everyone.
Jan Amiss
Photography
Paul Quintana has assisted me with my computers for several years. He has the expertise, experience, and patience to repair, and always recommend options for the next steps in my using this technology. He has been most helpful and consistently done the work in a timely and efficient way. My wife also depends on Paul Quintana to keep her computer working properly.
Larry Haslam
Independent Religious Institutions Professional
Paul always fixes the problem is prompt and efficient.
Ann M Mackinnon
CPA PC
Want to know where to go with your IT?
Get your consultation today
Are slow computers affecting your bottom line?
We stop your computers from causing you stress.