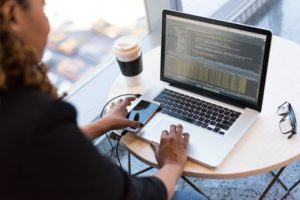 When we find a new software to use, we usually look at the consumer reviews, and what the company says about their product.  One major detail a company likes to show is the type of software. Whether they are Open Source Software, and Closed Source/ Proprietary Software. Which one is the best for you and your business?
Open Source software
Open Source Software is software that allows its source code to be publicly accessible.  It can be inspected, adjusted, and improved, to a degree. (Source code is the code computer programmers use to change how the software works and looks.) Open source works through community-involvement, collaboration, and peer review. This mainly involves programmers and developer communities. As a result of the many hands working on this software, it is cheaper, more flexible, and has more longevity.
There are two forms of Open software: Project/Community Open Source Software and Commercial Open Source Software (COSS).
Project/Community Open Source is developed and managed by a community of developers. However, depending on the size of the project, it could be copyrighted by the contributors directly or are run by nonprofit foundations. A well known example is Linux.
Commercial Open Source Software (COSS) is when the full copyright and trademarks are controlled by one person or company, but they will accept source code contributions if the contributor gives the copyright of the code to the owner. The distribution of the software can be free or for a small fee. A well known example is Facebook.
License agreements and support
All software includes license agreements. Open source licenses are different from closed source. There are two types of licenses that can be used; one allows users to use the software in any way they want, and the other is known as a "copyleft" license that requires that anyone who changes something in the software needs to release the source code they used.
The support side of open source is also more community based. There is a global community of users and developers that participate in forums that answer questions and post advice. This means that there is a bigger amount of people who can help you and have personally experienced major issues. There is also a negative side to this. Since there are a lot of people involved, it is not going to be fast support.
Closed Source
Closed Source Software is a software where the owner has complete control and does not allow its source code to be modified unless permitted. Only the authors of the software can do this. The license agreement that is signed before you use the software requires the user to agree that they will not do anything and will only to use it as it is purposed. A good example of closed source software is Microsoft Word and Adobe Photoshop.
Closed source has different support than open source. The company really knows their product and has more training. As a result, the support is more stable and accessible. Also, there are more updates, bug fixes, and updated documentation when new versions are released.
So which software is the best?  The overall answer is, it depends on what you need.
Is your priority in the customer support and stability? Closed Source would work great! Or do you love flexibility? Open source is the way!
It is important to Zia Networks that our valued customers know about the products we recommend. Is your network secure? Please reach out to Paul@zianetworks.net to find out more.